THIS VINTAGE-STYLE SIDE TABLE WILL ADD THE PERFECT FLAIR TO YOUR INDOOR DECORATION
Inspired by the allure and enchantment of long, opulent sea voyages of the past, the Atticus Side Table rocks any interior setting by giving your living space a retro feel. Featuring an aluminum finish on its curved body, with the wood paneling, leather accents, and heavy brass hardware gives it an industrial look while evoking a relic of the past of exploration and adventure. It helps keep the bedroom organized by giving you plenty of space to store all of your nightstand belongings. Atticus is the perfect accent for your living space or bedroom.
FEATURES:
Give your home a modern and versatile feel
Robust aluminum construction 
Combines vintage and simple styles effortlessly
A perfect addition to your existing decor
DIMENSIONS:
A SOPHISTICATED VINTAGE LOOK
This side table with leather accents on a vintage trunk design will wonderfully accentuate your space.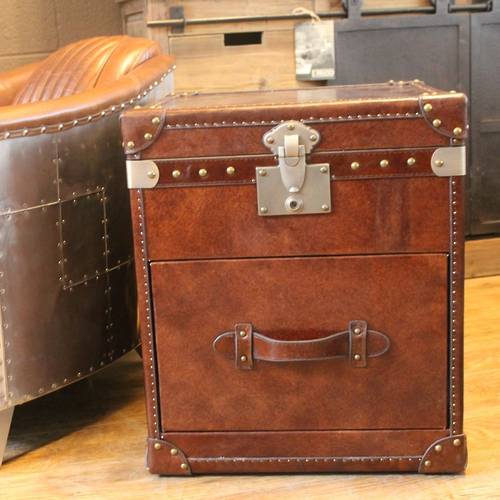 THE IDEAL SIZE
The Atticus provides adequate storage space and is the ideal area to fit your interior.
STURDY AND DURABLE
With the help of this sturdy and durable side table made of aluminum, you can bring a conducive atmosphere to any space.
Featured on
As an interior designer, it's important for me to have the proper outlet to express myself when I'm with clients. It's convenient to browse Cleanlino and show clients hundreds of styles right in their home.
Super happy with my table lamp purchase. It's completely changed the way I prepare to sleep and I'm always dimming it before I go to bed. I've already got all my family's Christmas gifts ready for this year! Thank you!
The greatest partner in selection and lead time. They were able to supply a 32 unit office building with my strict month deadline. Local vendors were giving me 6 month lead times! You guys saved my butt and I'm a client for life.